We would like to welcome you to the Hemlock Campground and Cottages website.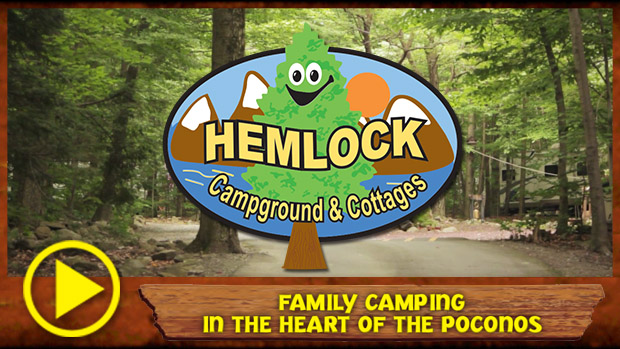 Please take a tour of our site and don't forget to view our upcoming activities.
We hope to see you soon!
Hemlock Campground & Cottages is a fun family camping facility centrally located in the heart of the Pocono Mountains of Northeastern Pennsylvania. Our campground features level, wooded campsites for RV's, tents and pop-ups. Heated and air conditioned Cozy cottages are also available, fully equipped with all the essentials. We are pet friendly whether you are camping or staying in any of our rental units.
Updated 1/138/2022
We are excited to continue to offer our campground to get away and relax with your family in a safe and fun outdoor space. We are here for you. Tent sites and bath house are OPEN! We are thankful for all of you who have stood by us and remained patient while we navigated these uncharted waters last year. 2020 and 2021 were tough years but if it proved anything it showed that you and your families want to spend time together safely.
Our hearts and prayers go out to everyone impacted by COVID-19. Before your stay with us, we want you to be aware of our increased efforts to keep our guests and family safe and healthy. We are modifying our business practices for the foreseeable future based on CDC guidance and statewide mandatory restrictions. As the situation rapidly evolves, we will continue to take the necessary steps to ensure that we are acting accordingly.
You are the primary person responsible for your own preparedness in this time of COVID 19. We cannot guarantee anyone's safety from any virus or sickness during a visit to Hemlock Campground and Cottages. This means you accept this risk for yourself and those you are visiting with. If you are sick, have medical vulnerabilities or are considered at higher risk, you need to stay home. The only way to eradicate COVID-19 is by avoiding the chance of infecting others. Come back when you are well!
We need you to understand that we are taking this pandemic seriously. We will be following CDC guidance and other recommended guidelines to enforce rules and procedures that will help to mitigate risk. Anyone who chooses not to follow these rules and procedures will be asked to leave the park immediately. You will need to follow the same rules at camp as you do in your own homes.
TEMPORARY CHANGES
Cottages must bring their own pillows, sheets, and blankets for beds and towels for bathroom.
In order to promote social distancing and comply with statewide mandatory restrictions, we have modified our offerings for the foreseeable future.
Practice Social Distancing – Maintain the recommended minimum 6 feet apart from fellow recreationists.
Store – will be open. We will be selling all items at the store like we always do however, we are practicing social distancing both inside and outside the store. No browsing please, the store is not an activity for boredom at this time.
Registration – You may come in and register or if you would like curbside check-in please call ahead.
Playground, gaga ball pit, are open but you are responsible for hand washing and proper cleaning of yourself. It is impossible for us to keep the equipment sanitized between each use.
Some scheduled activities are being offered. We have updated activities for the year but please be advised that they could change depending on social distancing rules. We will continue to follow CDC guidelines.
Pool will be open. as normal.
We are deeply saddened by this change in our operations and hope to be back to business as usual as soon as possible. We will continue to share updates and stay connected through email and Facebook during this time.
We thank you for your patience and for continuing to support our small family business in these challenging times.
Stay safe.
Craig and Barbara Repetski